LAB series containers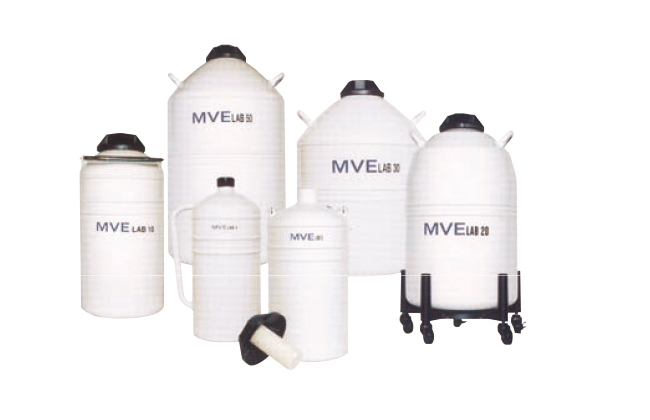 LAB series containers are high-performance liquid nitrogen containers ideally suited for storing, transferring, and dispensing purposes in the fields of biotechnology, research, and industrial gases. LAB series containers are available in 4, 5, 10, 20, 30, and 50 L sizes.
Product Features
・Created based on our over 30 years of experience, with leading technologies in the US low temperature industry.
・Its large opening and light weight (made with aluminum) make it easier to fill and extract low-temperature liquid and transfer the container.
・Its enhanced performance extends the possible storage period for low-temperature liquid.
・Suitable for applications in the fields of research, biotechnology, and industrial gases.
・Various accessories are available for use with the containers.
Applicatiions
Used for dispensing liquid into devices, such as electronic microscopes and mass spectrometers. Used as a cold trap or a semiconductor detector. Also used for various applications in the field of dermatology.
Specifications
| | | | |
| --- | --- | --- | --- |
| PumpSpecifications | LAB 4 | LAB 5 | LAB 10 |
| Volume(liters) | 4 | 5 | 10 |
| Evaporation rate(LN2)(liters/day) | 0.19 | 0.15 | 0.18 |
| Inner diameter (mm) | 35.5 | 55.9 | 55.9 |
| Height(mm) | 426.7 | 462.3 | 546.1 |
| Outer diameter(mm) | 185.4 | 223.5 | 261.6 |
| Usable height (mm) | 198.1 | 266.7 | 342.9 |
| Inner diameter (mm) | 139.7 | 165.1 | 210.8 |
| Empty weight (kg) | 2.7 | 3.6 | 5.9 |
| Fill weight(LN2) (kg) | 5.9 | 7.7 | 14.1 |
| | | | |
| --- | --- | --- | --- |
| PumpSpecifications | LAB 20 | LAB 30 | LAB 40 |
| Volume(liters) | 21 | 32 | 50 |
| Evaporation rate(LN2)(liters/day) | 0.18 | 0.22 | 0.49 |
| Opening inner diameter (mm) | 55.9 | 63.5 | 63.5 |
| Height(mm) | 627.4 | 612.1 | 779.8 |
| Outer diameter(mm) | 368.3 | 431.8 | 431.8 |
| Usable height (mm) | 348.0 | 378.5 | 558.8 |
| Inner diameter (mm) | 289.6 | 355.6 | 355.6 |
| Empty weight (kg) | 8.6 | 12.2 | 15.4 |
| Fill weight(LN2) (kg) | 25.4 | 38.1 | 55.8 |
---