Ultra helium dewar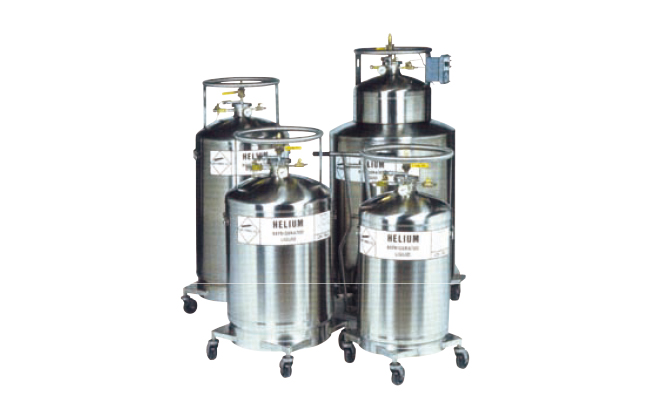 Product Features
・Adopts a unique design to minimize heat loss as well as a proven support structure.Uses outside casters for enhanced stability.
・Available in various inner volumes from 60 to 500 L.
・The filling cup ring on the top of the container makes it easier to connect it with various transfer lines.Optional electronic pressurizer available.The container pressure for LHe transfer can be set at either 4 psig (0.3 bar) or 8 psig (0.6 bar).
Applicatiions
・Containers with maximum durability and light weight.
・Features superior thermal performance.
・Employs a ball valve which can be connected to any transfer line with a bore up to 1.9 mm.
・Various accessories available.
Specifications
| | | |
| --- | --- | --- |
| Model | UD-60 | UD-100 |
| Total inner volume (liters) | 60 | 110 |
| Net inner volume (liters) | 60 | 100 |
| MHeat leak value (%/day) | 1.75 | 1.25 |
| Maximum working pressure (kpa) | 82.7 | 82.7 |
| Threshold pressure for activation of the main safety valve (kpa) | 68.9 | 68.9 |
| Threshold pressure for activation of the second safety valve (kpa) | 82.7 | 82.7 |
| outer diameter (mm) | 610 | 610 |
| Height (mm) | 1273 | 1479 |
| Liquid pipe length (mm) | 889 | 1110 |
| Empty weight (kg) | 75 | 91 |
| | | |
| --- | --- | --- |
| Model | UD-250 | UD-500 |
| Total inner volume (liters) | 275 | 550 |
| Net inner volume (liters) | 250 | 500 |
| MHeat leak value (%/day) | 1.0 | 1.25 |
| Maximum working pressure (kpa) | 82.7 | 82.7 |
| Threshold pressure for activation of the main safety valve (kpa) | 68.9 | 68.9 |
| Threshold pressure for activation of the second safety valve (kpa) | 82.7 | 82.7 |
| outer diameter (mm) | 813 | 1067 |
| Height (mm) | 1702 | 1750 |
| Liquid pipe length (mm) | 1322 | 1431 |
| Empty weight (kg) | 152 | 245 |
---